The Supply Chain & Logistics Association of Australia Rebrand
The Supply Chain & Logistics Association of Australia (SCLAA) is the largest network of supply chain professionals in the country, with 4,500 members & industry contacts, and a strategic reach of over 40,000 across their network of practitioners and professionals. Active in Australia for over 50 years in various forms, SCLAA partnered with Engineroom Design to undertake a strategic Brand Evolution & Redesign of their entire marketing suite to re-align their visual identity with their purpose and future goals, and re-engage their slowly declining membership base.
After completing a detailed member survey in 2021, SCLAA discovered that the perception of their association was not meeting their expectations. Their brand was viewed as dated and out of touch in an industry where technology was constantly advancing, and innovation was crucial. They were disconnected from their existing members and while the value that the association offered was of a high standard, their marketing was not communicating this to their audience.
Engineroom undertook an in-depth strategic review of the business and their most valuable touch point, their website. In order to understand the strengths and weaknesses of the association and develop a new, future-focused brand positioning and visual identity that would connect with their target market and propel them into the future.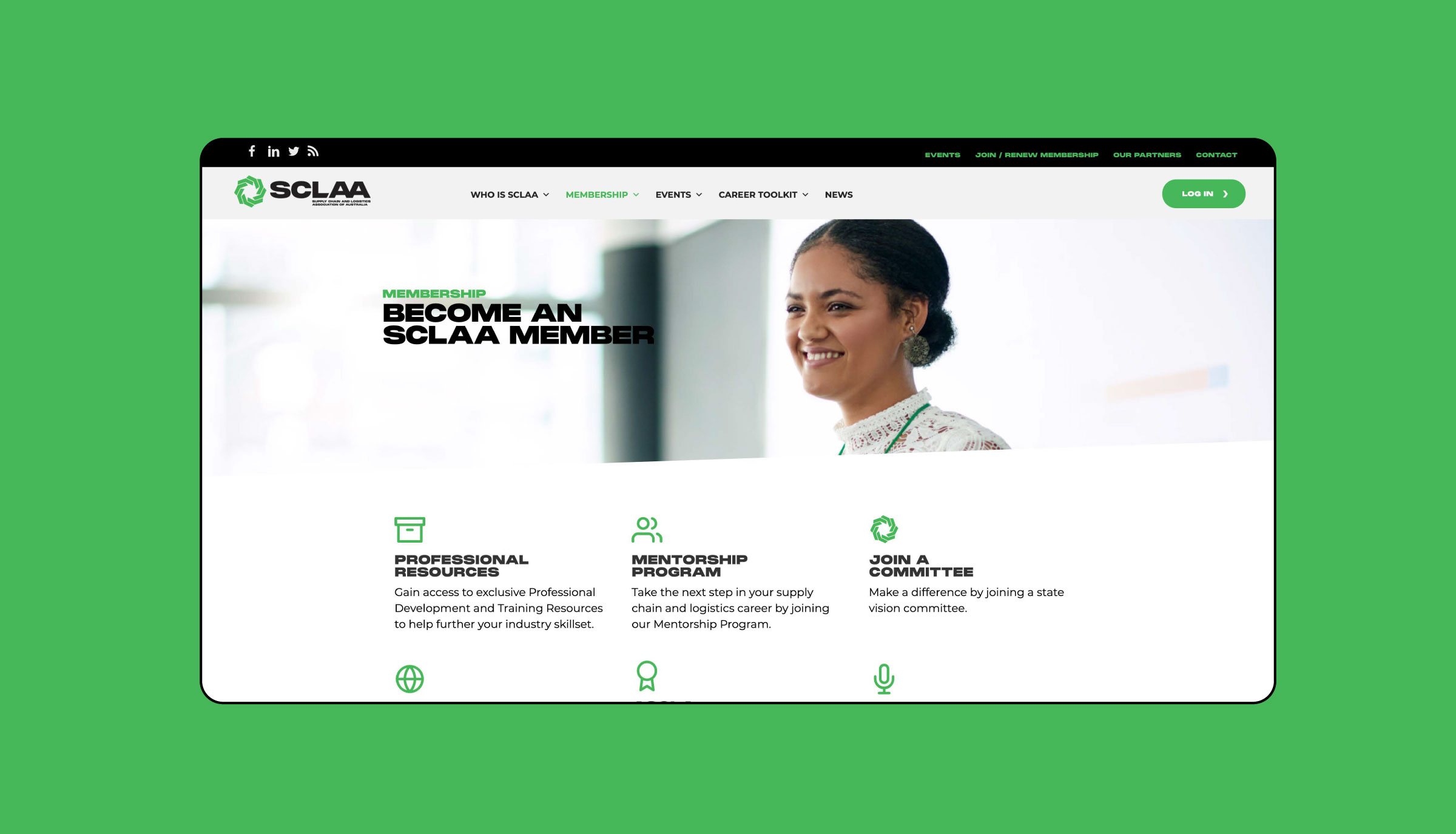 The identity developed provided a simple but strong logo device derived from SCLAA's core values of being forward thinking, building connections and forging new pathways for their members. The bold colour palette gave the brand impact and a unique style that set them apart from others in the industry.
Scope of Work:
Positioning & Brand Strategy
Brand System & Guidelines
Collateral Rollout
Website Audit & Review
Website Design & Build
ASCL Awards sub-brand identity
ASCL Awards print & digital collateral
SCLAA's new brand identity was an exciting step towards bringing the brand in-line with the Associations goals and core values. The coordinated launch of the brands new positioning both to the internal team and their members and partners, along with the rollout across various marketing collateral, the ASCLA sub-brand and their new, functional website, ensured that every communication via the national board, state run divisions or committees all aligned with the associations renewed vision.
Since the brands launch in February 2022, SCLAA have been ecstatic with the impact it has had on Memberships, attracting National Partners and as a result association revenue. The results in the 6 months since launch have exceeded their 12 month goals, with the following increases.
Our Brand redesign work for SCLAA won Gold at the 2022 Australia & New Zealand Transform Awards for the Best Visual Identity from the Transport & Logistics Sector, with judges praising the logo, as well as the "bold and contemporary" general design.
Very clear identification of the challenge, the strategy made sense and it linked clearly to the creative execution which was clean and fresh," said one judge.
Social Media Newcastle | Social Media Styling Newcastle
At Engineroom Design we are problem solvers, positive thinkers and always have a can do attitude. We love what we do, and genuinely want to assist our clients reach their full potential.